Strength and durability are qualities that are naturally associated with steel. Steel Fabrication Shops provide a full range of design, engineering, fabrication and erection services that lead to useful products for business owners. Steel Fabricators use their knowledge and expertise of a variety of processes, including welding, heat treating, adhesive joining, brazing and soldering, stamping and rolling, tumbling, buffing, polishing and honing. Unlike typical forms of welding where materials are repaired or strengthened, steel fabrication takes many pieces of metal and attaches them together in the form of a predefined shape and size. This process fabricating steel requires a skilled expert that has the appropriate experience in taking raw components and transforming them into usable products.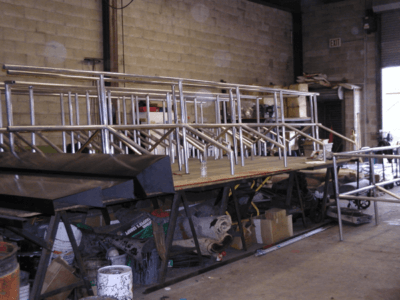 Steelmasters is your go-to-source for miscellaneous commercial steel and iron fabrications of every kind. We professionally weld and manufacture steel and iron customized to fit your specific desires and needs. With over 30 years of experience, you can count on us for all your steel fabrication needs. We serve customers throughout the state of New York – Manhattan, Brooklyn, Queens, Staten Island, the Bronx, Westchester, Long Island and the surrounding neighborhoods.
Here is a list of common applications of Steel Fabrication that we provide to customers throughout New York:
So what types of commercial industries typically utilize the services of a Steel Fabrication Shop? Hospitals, factories, stores, industrial businesses, apartment complexes, government buildings and other large commercial and institutional properties are just a few examples. If you're a commercial business owner looking for a reliable steel fabricator in New York City, then Steelmasters is just a phone call away. We employ the best welders and fabricators in New York and our team is standing by to provide you with quality steel fabrication for your business.