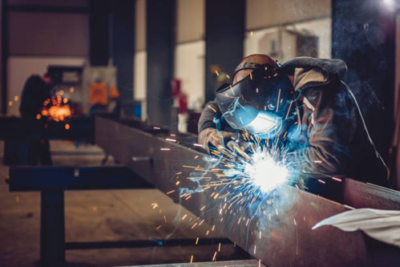 There are no easy shortcuts when it comes to steel fabrication, especially if you're looking for highly customized solutions. If you're going to fabricate steel, there are several good reasons why you should go with a top-notch steel fabricator. As a starting point, the right steel fabrication company will serve as an extension of your business, delivering measurable outcomes.
It can be very costly for your business to make the wrong choice in hiring steel fabrication companies. Fabrication service providers all have their own special strengths in terms of fabrication technology, expertise, and resources. So, how can you tell which steel fabrication company is ideal for your specific project?
The following are some of the factors you should consider when looking for a customized solution.
What is steel fabrication?
In steel fabrication, raw materials are transformed into the desired shape by burning, cutting, welding, machining, or forming. Before being formed into the desired shape, the raw materials are melted and mixed into steel. Steel fabrication companies create both stock and custom materials.
Some of these products include construction parts like stairway fabrications, galvanized grating fabrications, or machinery parts like tractor blades, vehicle chassis, door frameworks, etc.
Expertise and experience are required to successfully turn raw materials into marketable products, and there is usually no chance for error in the process. Everything from automobile parts to home appliances can be made in industrial facilities using steel fabrication.
Why you need custom steel fabricators?
Many businesses require products that are tailored to their specific requirements and goals. Existing products may be enhanced or entirely new ones may be introduced. Product customization ensures the perfect fit and appearance for any business need.
For smaller businesses, manufacturing custom products is a cost-effective and versatile option that doesn't necessitate the purchase of time-consuming or expensive machinery. When it comes to making custom products, steel fabrication is a low-cost option for small-scale businesses. A business does not have to spend a lot of money on new technology when working with a steel fabrication company.
Selecting the right steel fabrication company
So, how do you decide which steel fabrication company to hire? Here are a few points to consider when choosing a custom steel manufacturing company:
1. Extensive experience
Finding a company with a wide range of experience in the project you'll work on is critical in the steel fabrication industry. Steel production mistakes can be extremely costly. The standard of the company's output, rather than the number of projects it has completed, should be taken into consideration.
Make extensive inquiries into their previous steel fabrication jobs to find out what their qualifications are. Is this company credible? Do they have a track record of satisfied customers? Choosing a fabricator who has worked on similar projects in the past will ensure that your project is completed on time and without any mistakes.
2. Pricing
A fabrication company should be chosen for its value and quality, as well as its ability to produce the desired output. You should not equate the cost of the product or service offered to the value provided by the business. Make your findings known to steel fabrication companies around you, then come up with a list of the top five.
Get a price estimate from their teams and be specific about the job details so the company has a full picture of what you want. Also, make notes on what discounts are available, if there are installation fees or post-installation services available.
3. Credentialing
The steel fabrication company of your choice should have the required licenses and permits. For example, if a company intends to provide sheet metal fabrication services, it must apply for a license. If it is producing components for R&D, it must apply for a license as a specialist manufacturing firm. Trustworthy organizations will make sure all the relevant certifications are in place and the project meets the required standards.
4. Previous Project Quality
Your project should be produced at the highest quality possible. Steel fabrication companies must only use high-quality materials. In your findings, make sure the fabricator lets you in on the steel quality used to execute projects. The contractor must apply the appropriate grade of stainless steel for your company's requirements.
Avoid fabricators who provide you with a hazy account of material quality. Irrespective of the project size, maintaining and not compromising quality is important. The longevity of these metals influences their lifespan before needing to be replaced.
5. Industries Served
The previous sectors that the steel fabrication company you're interested in has served can give you an idea of whether it can handle complex tasks. There are strict regulations and high standards in the biotechnology, food processing, automotive, and chemical industries. You may be confident that the contractor you're considering will give quality service and products if it has experience serving these industries.
Make sure the contractor puts together a list of industries it has worked with in the past and uses it as a guide.
6. Workforce
When narrowing down your search, study and evaluate the workforce of the prospects. The ASME regulations for your fabrication, for example, will influence your search. Seek firms that test and certify their welders under ASME Section IX.
7.  Rapid turnaround
A company that has a reputation for not meeting schedules or working behind timelines might not be a good idea. This is concerning if other parts of your projects depend on the timely arrival of fabricated steel materials. Reputable steel fabrication companies provide you with a timeline and update you on key milestones. The schedule should entail all the procedures, from ordering materials to delivering the finished product. A good fabricator will have prior experience in this role and will have no trouble walking you through the steps.
Ready to choose the most suitable Steel Fabrication Company for your unique business needs? Steel Masters NYC provides skilled and experienced hands to bring your project to reality. We design, install and manage a wide range of solutions to ensure maximum performance for all of our clients. Contact us today, to find out more about our team and how we can help with your next project!