New York is filled with commercial buildings and industrial facilities of all kinds. From manufacturing to distribution & logistics to apartment buildings, there's a diverse set of commercial construction throughout NYC. But a common theme among all multi-story buildings is the need for steel fire exit stairs. Not only is this critical for safety, but also important to meet local NYC building codes.
New Fire Staircase Installation in NYC
If you're in the market for new fire staircase installation, Steel Masters NYC is your go-to metal fabrication and iron works shop that you can call upon. We have the appropriate experience and knowledge in the design, manufacture and installation of metal fire exit staircases for industrial and commercial applications. Our steel fabricators will examine your facility so that we can make specific plans to meet all of your safety requirements. We are able to design and fabricate staircases to any specification from a simplistic design, straight with platforms to an intricately spiraled model.
Outdoor Metal Fire Exit Stairs – Critical to Safety
Fire exit stairs are considered a critical solution for safe emergency evacuations and fire exit. Metal fire stairs are a special kind of emergency exit, usually mounted to the outside of a building or occasionally inside but separate from the main areas of the building. It provides a method of exit in the event of a fire or other emergency that makes the stairwells inside a building inaccessible. Outdoor fire exit staircases consists of varying horizontal platforms, one at each story of a building, with ladders or stairs connecting them. The platform and stairs are usually open steel gratings, to prevent the build-up of ice, snow, and leaves that come with the New York elements.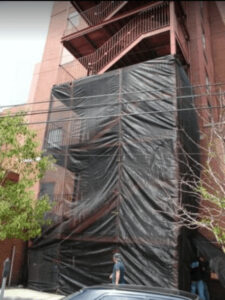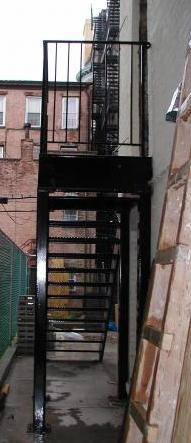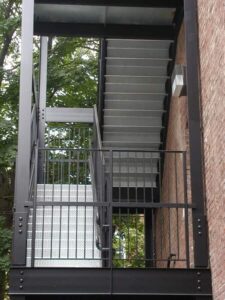 We are your trusted experts for the following steel fabrication services in Manhattan, Brooklyn, Queens, Staten Island, the Bronx, Westchester, Long Island and the surrounding neighborhoods:
Outdoor Steel Stairs
Fire Exit Staircase
Fire Exit Stairs
Fire Stairs
Fire Staircases
Metal Fire Stairs