It won't be difficult to find a metal fabricator or a steel fabricator in New York City or the surrounding area, since there are any number of capable companies who do that kind of work. The real trick will be to find a company which can create custom iron works and other types of metal fabrication while ensuring high quality, great workmanship, a reasonable production time, and an affordable price. That might sound like a lot to expect, but business competition these days is fierce, and in order to survive, companies are obliged to meet high standards and to be competitive in a number of different ways. Here is how you can go about finding just the right steel fabricator in the New York City area.
What Kinds of Steel Fabrication?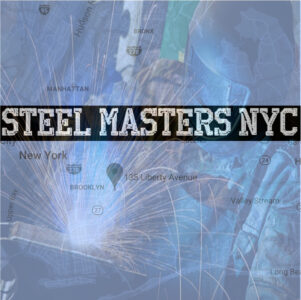 Some steel fabrication companies have a fairly narrow focus, and tend to emphasize certain product lines which they consider vertical markets, i.e. those which offer the promise of high-volume, high-profit potential. So when you're searching for a reputable steel fabricator, do some research on the specific company to make sure they actually handle the kind of work you have in mind. Other companies make practically every kind of steel fabrication under the sun, e.g. railings, gratings, catwalks, access ladders, fences, security bars and guards, and commercial and residential gates. If your candidate company hasn't made your type of fabrication in the past, you should probably look elsewhere for some company which has.
Experience Matters in the Metal Fabrication Industry
One of the more important factors in deciding which steel fabricator to work with, is to consider how many years they have been in business, and what kind of experience they've had with the kind of metal fabrication that you're looking for. You probably don't want to work with a startup company, because they'll just be working out the kinks in their process, and for the same reason you won't want to work with a relative newcomer to the industry. If you can find a company that has been around for a while, and has a great deal of experience in metal fabrication, that might be your best bet.
Good Reviews for your Local Steel Fabricators
As with any other product or service you might be in the market for, one of the best ways of finding out how good the products and the customer service are for any company is to read lots of the reviews which have been written by previous customers. These are legitimate clients who have availed themselves of the company's products or services, and they have either found them to be exceptional or exceptionally poor.
Not many reviews are written with a lukewarm point of view, so you should be able to find some which offer glowing recommendations about a particular company. When you're reading through these, make a point of finding out just what it was about the company that customers really liked, and if those are the most important points to you as well, this may be the steel fabricator you should choose. Choose a highly rated NYC Steel Fabricator such as Steel Masters.
Related Post: