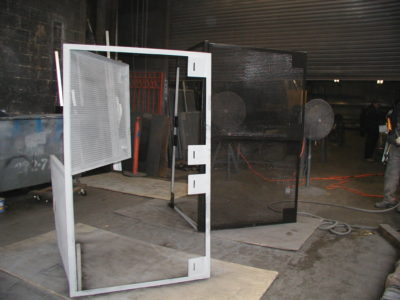 Expanded metal is the most economical of all open metal products. They are ideal for security screens. They are usually available as flat or raised expanded metal. These pieces generally provide an impenetrable barrier when used on ceilings or behind drywall. Expanded metal or welded wire mesh is perfect for welding or fabricating into steel security rooms, storage areas and cages all with or without steel security doors.
Expanded metal has numerous advantages over other types of metals. One, it's a cost-effective alternative to perforated choices as no metal is lost during the expanding process. Two, it doesn't ravel unlike woven wire products. This means that when it's cut at one end, the remaining strands continue to hold strong. It also boasts of great versatility and comes in a variety of sizes, weights, and styles, thus offering many different choices to suit your taste.
Our Services
If you are looking to have expanded metal installed in your commercial or industrial property, we are the right people to call. We are the leading provider of expanded metal fabrication for industrial, commercial, real estate management companies, general contractors and builders, as well as apartment building renovations.
Our experience and expertise in custom iron work production enables us to meet the demands of our customers in a timely and efficient manner. Since our main aim is to ensure maximum customer satisfaction, we also offer design and drafting assistance. We use a variety of contour cutting equipment. If you wish, you can provide us with your own sketch or a 3D CAD drawing as our design specialists will get down to work and come up with great styles and designs.
Our highly skilled staff will be happy to discuss any question you might have about our expanded metal fabrication capabilities. For more details, contact us today.