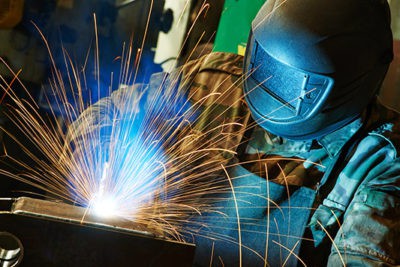 Steelmasters specializes in custom iron works and steel fabrication for commercial businesses throughout New York.  Our professional iron workers can weld and manufacture steel and iron customized to fit your specific desires and needs.  From steel staircases to metal garbage pail bins to sidewalk cellar doors, our welders work with miscellaneous commercial steel and iron fabrications of every kind.
Commercial Iron Works
As an experienced manufacturing company of iron works and steel fabrication, Steelmasters has the ability to provide metal fabrication services to a wide range of commercial and industrial businesses:
Hospitals
Factories
Industrial Businesses
Apartment Complexes
Government Buildings
Institutional Properties
Commercial Businesses
We also work with many real estate management companies and general contractors throughout New York.
Welders and Fabricators of Metal, Steel & Iron
We have over 30 years of experience and have completed thousands of projects for customers throughout New York.  As specialists in our field, we are able to fabricate iron into usable products according to very specific requirements and needs of our commercial customers.  Whether it's steel stairs at an apartment complex, or a fixed roof access ladder for a commercial building, we can fabricate metal according to your specifications.  Here are some of the common iron fabrication and metal fabrication products that we manufacture for commercial businesses in New York:
Machine Room Grating Platforms
Steel Mezzanines
Why Choose Steelmasters?

We have over 30 years of experience in iron repair, fabrication and installation
We've successfully completed thousands of projects across New York
We use only the highest quality materials, guaranteed to last
Our knowledge in commercial iron works is unsurpassed
Our welders can help you make your idea a reality
Customer Satisfaction Guaranteed
Steelmasters is proud to provide complete steel works and iron works to customers throughout the state of New York and especially to the five New York City bouroughs of Manhattan, Brooklyn, Queens, Staten Island, the Bronx as well as Westchester, Long Island and other neighboring cities.